Directory of Other Episcopal Churches in St. Mary's County
SAINT GEORGE'S EPISCOPAL - VALLEY LEE, MARYLAND In 1634, Leonard Calvert, the brother of the Lord Baltimore, Cecil Calvert, and his party of English settlers stepped foot on Mary's Land -- a new colony which would practice some degree of religious toleration, especially for Roman Catholics such as the Calvert family -- disembarking from the Ark and the Dove at St. Mary's City. As settlement quickly spread westward up the Potomac and Patuxent Rivers, a new political subdivision, St. George's Hundred, was established in 1638 just west of St. Mary's River.  It is believed that the first church at Poplar Hill -- St. George's present landholding in what is now called Valley Lee -- was built between 1638 and 1642.  It stood fifty feet to the northward of the present church; indeed, when a crew was digging for a lightpost in the 1980s they uncovered what archeologists deemed to be a 17th century foundation stone.  The church's position was, in all probability, determined by the location of the two great oaks which stood on either side of its entrance.  Those sizable oak trees, referred in local lore as "the treaty oaks," signifying that on this site treaties were drawn between the English settlers and indigenous tribespeople, are now gone, having failed to withstand the many years gone by.
SAINT MARY'S PARISH - ST. MARY'S CITY & RIDGE, MARYLAND The colony of Maryland was founded in St. Mary's City in 1634, and the seat of colonial government was there until it moved to Annapolis in 1694. Construction was started on Trinity Church, St. Mary's City, in 1829, using bricks from the original 1676 State House.  About eight miles south of historic St. Mary's City, St. Mary's Chapel in Ridge serves as the chapel-of-ease for the parish.  Historically, St. George's (Wm. & Mary Parish) and St. Mary's Parish shared one rector, and it wasn't until 1965 that each parish had their own clergyperson and rectory.  St. Mary's Parish has a lively ministry to St. Mary's College of Maryland and is centrally l ocated amidst Historic St. Mary's City and the College.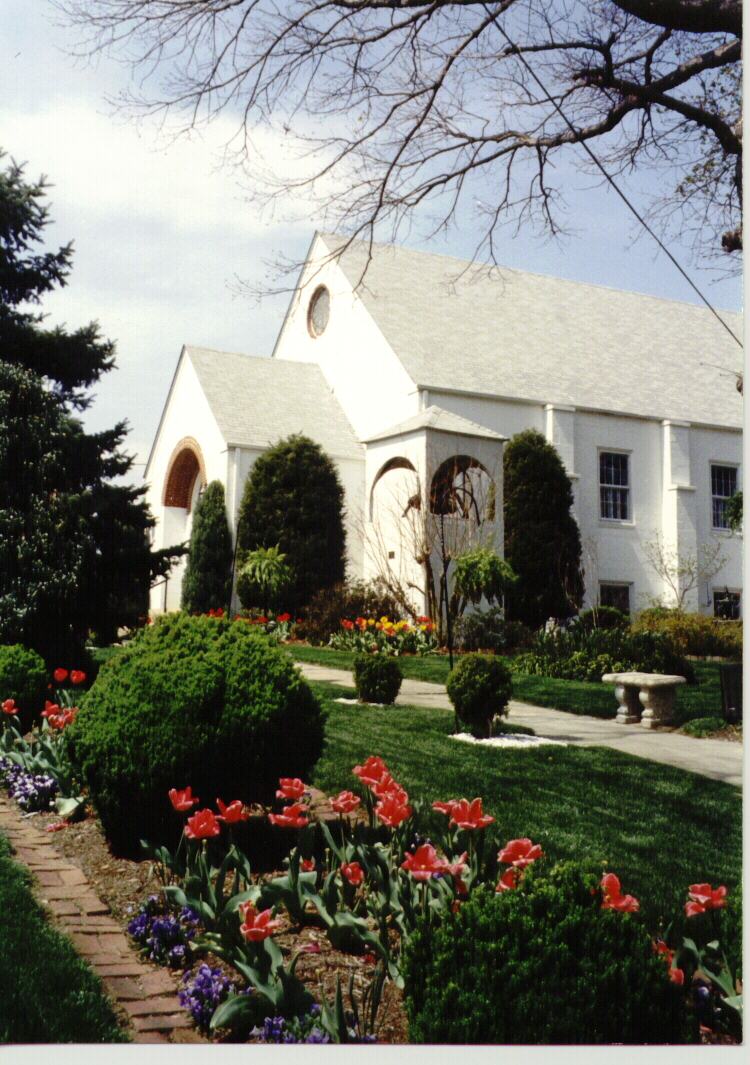 CHURCH OF THE ASCENSION - LEXINGTON PARK, MARYLAND Ascension is the "new" church in the county, having been established as a chapel-of-ease in the 1950s and made Patuxent Parish in 1968.  Lexington Park, Maryland was a post-war development when the Patuxent River Naval Air Station boomed in the years following World War II.  Interestingly, the land on which Ascension now sits was given to our diocese by a member of St. George's, Valley L ee.  Church of the Ascension has a lively social outreach ministry and beautiful gardens.
ST. ANDREW'S EPISCOPAL CHURCH - LEONARDTOWN, MARYLAND St. Andrew's Parish was carved from other parish boundaries by the Maryland Provincial Assembly in 1744, and the church itself -- a stunning example of colonial architecture -- was completed in 1767.  For many years, the parish worshiped at their chapel (St. Peter's) in Leonardtown and opened the parish church (St. Andrew's) during the spring, summer, and early fall.  St. Peter's was sold in the 1980s, along with the rectory.  Meanwhile, the housing and development trends in St. Mary's County have ramped up around L eonardtown, and St. Andrew's enjoys a rich ministry to young families.
ALL SAINTS' EPISCOPAL CHURCH - OAKLEY, MARYLAND On or nearby the Tomakoken Creek in the current town of Oakley, an Episcopal church or chapel has been around for a long time.  In 1642, a Roman Catholic gentleman named Dr. Thomas Gerard, built a chapel-of-ease for his Anglican wife, her family, and servants.  The present church was built in 1846, after they changed the name from Tomakoken to All Saints Chapel in 1824.  They separated from King & Queen Parish in 1893, and became All Saints Parish.  Today, All Saints is a rural congregation in the Seventh District of St. Mary's County, and is filled with charm, grace, and good county folk.
ALL FAITH EPISCOPAL CHURCH - CHARLOTTE HALL, MARYLAND Charlotte Hall is one of the northernmost towns in St. Mary's County, along the Patuxent River side of our peninsula.  Interestingly, the parish was established after there was already an Anglican church in nearby Huntersville named "All Faith."  Lore has it that the name originally meant "Old Faith".  Still others have argued that the multi-use name originated because the church building was home to the Anglican church as well as other Protestant congregations.  The current building was constructed in 1767, and is a notable example of Flemish bond brick construction.  Today, All Faith is a family-friendly congregation that continues to serve its "north county" community.